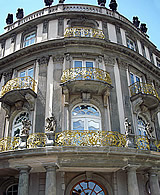 BERLIN -- CAPITAL OF COOL
Bespoke Berlin Programs
Enjoy an upscale atmosphere in one of Europe's most exciting cities. No other city in Europe has changed its face as dramatically as Berlin. In the last few years, Berlin's development has been in the overdrive.
We'll take you on a trip through space and time. For many people, Berlin is much more than a geographical place, it's a state of mind.
We'll show you all of new Berlin without concealing Germany's chequered past and history.
OUR TOURS (prices see below):

BERLIN CLASSICS
BERLIN HIGHLIGHTS
BERLIN SNAPSHOTS
BERLINDIVIDUAL
BERLINCREDIBLE
BERLINSPIRATION

BERLIN CLASSICS: The regular tour with all the landmark sights, such as the Brandenburg Gate, Gendarmenmarkt, the street Unter den Linden, the Holocaust Memorial, the Emperor-William-Memorial Church, Museum Island with Pergamon Museum, Germany's new Government District with Reichstag (the German parliament) and the New Chancellery, Humboldt University, the War Memorial (Neue Wache), Charlottenburg Palace, Potsdamer Platz.

HIGHLIGHTS OF BERLIN: If you have little time, this is the right tour that focuses on the unique Berlin blend of classical and contemporary landmarks.

SNAPSHOTS OF BERLIN: If you have no time, we'll take you on a spin through Berlin to the must-see sights of the city.

BERLINDIVIDUAL: We'll help you to compose your own tour according to your interests and preferences.

BERLINSPIRATION: Culture, museums, art, design, fashion, you name it.

BERLINCREDIBLE: Hidden places and things you will see only in Berlin.

Here are some suggestions for specific tours:

The unique BERLIN blend of classical and contemporary landmarks:

Brandenburg Gate, Pariser Platz and the site of the new U.S. Embassy,
Gendarmenmarkt: The French influence in Berlin, German Cathedral, French Cathedral , Concert House and Friedrichstrasse, the high-end shopping street with Galeries Lafayette and other brand names, Museum Island with Pergamon Museum, Old Museum, New Museum (see Nefertiti), Old National Gallery, Bode Museum, Germany's new Government District with the Reichstag (the German parliament), the New Chancellery and Bellevue Palace.

GERMANY´S CHEQUERED PAST:

• Stand over Hitler´s Bunker
• The downfall of Goebbels and his family
• Holocaust Memorial: The Memorial to the Murdered Jews of Europe
• The remains of the SS and Gestapo Headquarters: the epicentre of evil where the Nazis planned the stalags and the Holocaust, see the torture chambers
• Bebelplatz - scene of the Nazi bookburning
• Göring's Ministry of the German Air Force
• Sachsenhausen Concentration Camp
• The Berlin Wall and former "deathstrip"
• Checkpoint Charlie: a defining moment in post-war history, it is here where the Cold War started with American and Russian tanks facing each other in 1961
CLASSICAL PRUSSIAN BERLIN:

. The German state of Prussia has long passed into history. Nevertheless, it still arouses strong and conflicting emotions, until today it is a source of fascination and controversy.
Sign up for a trip into the past:
. The rise and fall of Prussia
. Frederick the Great: the iconic exponent of Prussia's glory
. William II: the tragic Emperor who epitomizes Prussia's downfall
. Architectural gems by K.F. Schinkel, Prussia's master builder

See the breathtaking architectural masterworks by the Prussian kings and German emperors. Get to know the history of Frederick the Great, Prussia's most flamboyant king and William II, the tragic emperor, who epitomizes Prussia's downfall.

New Berlin:

See the 21st architectural marvels by the world's most renowned architects such as Frank O.Gehry, Sir Norman Foster, Santiago Calatrava, Jean Nouvel, I.M. Pei, Daniel Libeskind, Helmut Jahn, Renzo Piano, Rem Koolhaas, Christian de Portzamparc.

For the tec-savvy and devotees of technopolis:

Cruise the highway of Gizmo City with our grand wizard of gadgetology. We'll take you to all the tec-stores, from the most sophisticated Sony store at Potsdamer Platz to the run-of-the mill shops at Alexanderplatz and Kurfürstendamm.

For the design aficionados:

Sign up for a shopping spree on the Spree (Berlin's river), a tour to the high-end destinations such as KADEWE or Galeries Lafayette, the temples of luxury, or along Kurfürstendamm, the Golden Mile for those with a passion for fashion, the fashionistas and the style victims, here the discerning shoppers will find everything in the flagship stores of the renowned brand names.

Shop till you drop and splash cash at KADEWE, the biggest department store on the European continent, the stock-in-trade on the 6th floor is really vertiginious and breathtaking, you can choose between 1.200 different kinds of cheeses or an array of 1.500 of sausages, meats cold cuts, sea food etc. The ultimate accolades are for Fassbender and Rausch, Europe's first and only chocolate restaurant and department store. If you have a sweet tooth, this is a must-see, must-taste and must-buy, the feel-good factor is bound to rise immediately the moment you enter this store/restaurant.

Night life:
Where the beat hits the street and the groove meets the move

For those who thrive on little sleep and lots of hard beats: The 24-hour clubs, bars and lounges in Mitte, Prenzlauer Berg, Friedrichshain are waiting for you. If you want to go on a pub crawl or immerse into Berlin's night life, Die Hackeschen Höfe is the place to go, it is teeming with trendy restaurants, artsy cafes, gourmet eateries. New boutiques with the latest in oozing hipster chic started opening in this once abandoned and run-down neighbourhood which now has an open and lofty feel.

You can opt for these sights

Alexanderplatz
Bellevue Palace
Berlin Cathedral
Brandenburg Gate
Charlottenburg Palace
Checkpoint Charlie
City Hall
Cultural Forum
Deutsches Technikmuseum
East Side Gallery
Emperor William Memorial Church
Ephraim-Palais
Europe Center
French Cathedral
Friedrichstadtpalast
Friedrichstrasse
Gendarmenmarkt
German Cathedral
Gestapo Headquarters
Hackesche Höfe
Holocaust Memorial
Humboldt University
ICC
KADEWE
Kurfürstendamm
Museum Island
New Guard
Nikolai Church
Nikolai Quarter
Olympic Stadium
Palace of Princesses
Pariser Platz
Pfaueninsel
Philharmonic Hall
Potsdamer Platz
Pleasure Garden
Prenzlauer Berg
Radio Tower
Reichstag
Sachsenhausen Concentration Camp
Sophienkirche
Soviet War Memorial
Spandau State Opera
The Berlin Wall
TV Tower
Unter den Linden
Victory Column
Zeughaus (former armory)
Zoo
Potsdam:
Gardens and palaces of Sanssouci
New Palace
Orangerie
Charlottenhof
Cecilienhof
Chinese tea house
Alexandrowka
The Dutch Quarter

Our Prices:
City tour with all sights of Berlin
from75 € on plus tax
City tour with special focus
from 90 € on plus tax
Walking tour with special focus
100 €
BERLIN by night,
(Reichstag, Hackesche Höfe, Potsdamer Platz) 2h.
150 €