THE HIT LIST

TOP OF THE WEEK

Hotel Adlon Kempinski
address: Unter den Linden 77
phone: +49 30 22610
fax: +49 30 2261-2222
www.hotel-adlon.de

Hotel Ritz Carlton
address: Potsdamer Platz 3
phone: +49 30 33 7777
www.ritzcarlton.de/berlin
Hotel The Regent Berlin
address: Charlottenstrasse 49
phone: +49 30 20338
www.theregentberlin.com

Kempinski Hotel Bristol Berlin
address: Kurfürstendamm 27
phone: +49 30 8843 40
www.kempinski-berlin.de

Hotel Das Stue
Hotel Berlin Tiergarten
address: Drakestraße 1
10787 Berlin
phone: +49 30 311 722 0
fax: +49 30 311 722 90
email: info@das-stue.com
www.das-stue.com

Dormero Hotel Brandenburger Hof Berlin
address: Eislebener Str. 14
phone: +49 30 214 050
www.dormero-hotel-brandenburgerhof.de
Fischers Fritz (at the Hotel The Regent)
Charlottenstr. 49
10117 Berlim
Tel: +49 30 20 33 63 63
www.fischersfritzberlin.de
2 stars Michelin
Restaurant reinstoff
Schlegelstraße 26c
10115 Berlin
+49 30 3088 1214
contact@reinstoff.eu
www.reinstoff.eu
SRA BUA by Tim Raue (at the Hotel Adlon)
Behrenstr. 72
10117 Berlim
Tel: ++49 30 22611959
www.srabua-adlon.de
Facil (at the The Mandala Hotel)
Potsdamer Str. 3
10785 Berlim
Tel: +49 30 59 005 12 34
www.facil.de
Hugos (at the Hotel Intercontinental)
Budapester Str. 2
10787 Berlim
Tel: +49 30 26 02 1263
www.hugos-restaurant.de
1 star Michelin
Horváth
Paul-Linke-Ufer 44a
Kreuzberg
Tel: +49(0) 30 61 28 99 92
U1 Kottbusser Tor
www.restaurant-horvath.de
The Palace - A Modern Legend
© Friedrichstadt-Palast Betriebsgesellschaft mbH
Welcome to the "East End", the Broadway of Berlin and the city's hip nightlife mile. Stretching from Unter den Linden and along the Friedrichstraße to the Hackescher Markt, this is the district with the highest theatre density in all of Germany. And in the midst of it you will find the world's biggest theatre stage!
Reopened in 1984 and located at Friedrichstraße 107, the show palace lies in the district Berlin-Mitte at a 5 minutes walking distance from the rail station Friedrichstraße. The massive structure is the last magnificent building erected by the already at the time slowly succumbing regime of the German Democratic Republic, and represents a great architectural contemporary witness to the inner German division in the past.
Friedrichstadt Palast Friedrichstr. 107 10117 Berlin-Mitte Germany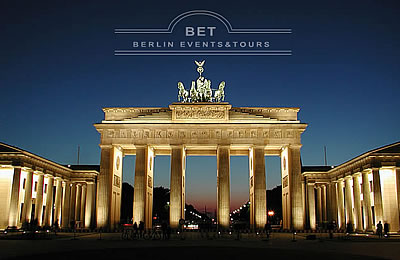 The Best of Berlin. On your own terms
Bespoke Berlin Incentives and Programmes. We will show you what others only talk about.
Berlin is currently undergoing an extensive process of transformation, the consequences of which cannot yet be glimpsed. (Baedecker 1880)

Never was Baedecker's 1880 description of Berlin more applicable than today, indicating as it does the two single constants running through a history of turmoil, change, and new beginnings: those of time and motion. Berlin has always grown and developed in fits and starts, and provided an indicator of political, social and cultural events in Germany. No other city in Europe has changed its face as dramatically as Berlin. After the political and social upheaval following the events of 1989, and the post-division construction boom, the shape of the new Berlin can now be recognised. For many people, Berlin is much more than just a place, it's a state of mind, and this is what we would like to share with you. Experience this unique town with its best guides. Come with us on an exciting and informative journey of discovery.
>>
Copyright © 2013 BERLIN EVENTS & TOURS